Similar Games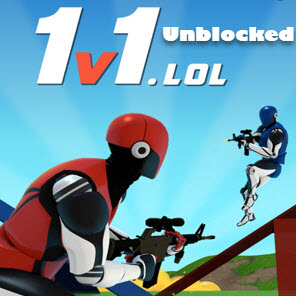 1v1.LOL Unblocked
New to 1v1 lol is 1v1.LOL Unblocked. Your objective in this action game is to eliminate all of the adversary's towers by either using a machine gun or a shotgun.
Game Rules
The unrestricted version of the 1v1 game mode. A first-person shooter and a simulation of building construction come together in the innovative and original online game known as LOL. Although the building mode in Fortnite is quite popular, the one in 1v1.LOL is a great deal more fun.
You have the ability to create and change your barricades in a manner quite similar to that of Fortnite. As soon as the game begins, you should immediately begin building a foundation and laying down ramp tiles so that you may reach a higher vantage position.
Because there are no areas of low population density on the map, you should constantly look for vantage points that are located high above. Be sure to pick your weapons carefully, taking into account the current situation.
The moment has come to get out the pickaxes and shotguns now that you and your opponent are in close quarters with one another. Sustain your assault with assault rifles or sniper rifles for fighting at medium to long ranges.
Controls
Press L, M, B to shoot or build
Press Z, X, C, V, Y to switch building platforms
Use F,1, 2 to switch weapons
Use R to rotate stairs or reload
Use G to make a door on platforms
Use E to open doors
Press W, A, S, D to move
Use Spacebar to jump
Use Shift to crouch