Similar Games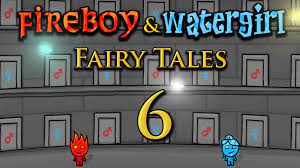 Fireboy & Watergirl 6: Fairy Tales
Fireboy & watergirl 6 is a game where Fairies need to help Fireboy and Watergirl solve all puzzles, beat the changing time, and accumulate all diamonds. You can also either play with a friend or even be alone in this new adventure. Playing together is a great way to solve various puzzles to reach the end, minimizing the number of traps that you may fall foul of.
INSTRUCTION
You will tackle a variety of puzzles to become the winner, playing with another friend is of great benefit as that game truly depends on teamwork between both characters.
You need to collect all the diamonds in each player, going to the exit door in each temple challenge.
FEATURES
Playing in a couple is encouraged
There are 31 levels to discover in Fireboy and Watergirl 6. There are 6 levels that are special needing to be unlocked.
The game features fairies that you are able to drag to help you get through the doors and up elevators without moving either character.
RULES TO SUCCESS
You can use the fairies to assist you during the level
You can also play at a steady pace to avoid having to start over again
It is tougher to play alone, you ought to go 2-player to enjoy the game and build a wide social circle of friends
When you play in a couple, both players must make it to the end to complete the level.
DEVELOPER
Fireboy and Watergirl 6: Fairy Tales was created by Oslo Albert
Controls
You drag the left mouse button for moving the fairies and the screen.

Fireboy control
Left and right arrow keys for moving

Up arrow key for jumping
Watergirl control
Use AD for moving

Use W for jumping
Fireboy & Watergirl 6: Fairy Tales Reviews