Similar Games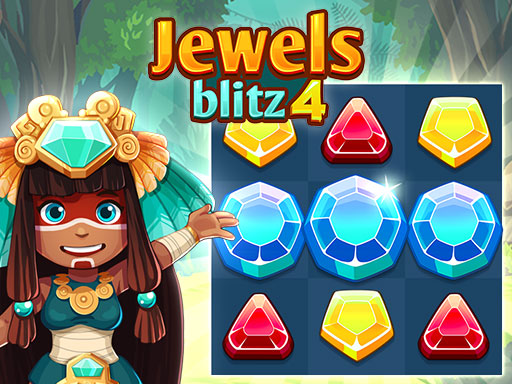 Jewels Blitz 4
Jewels Blitz 4 is an excellent online game in which you need to combine all colorful gems and try to remove all obstructions or seals
HOW TO PLAY
Jewels Blitz 4, the long-awaited fourth part of the renowned Match 3 puzzle series, transports you to the Central American jungles.
You will meet Maya, a young Mayan princess, and assist her in recovering the lost jewels of her tribe.
You can eliminate jungle obstacles or magical seals, ease volcanoes, or secure Mayan relics, combine the bright jewels and employ their concealed powers.
You can go on a treasure hunt and accomplish daily quests and challenges to collect gold, magical artifacts, and other gifts that will assist you in completing the over 600 levels.
You will play Jewels Blitz 4 for free now and immerse yourself in the intriguing world of the Maya.
You'll have a lot of fun with this puzzle!

KEY FEATURES
You can get full stars by matching at least three of these valuable gems.
When you match more than four tiles, you'll get a variety of boosters and power-ups to aid you in your quest.
It's as simple as switching between touch controls and your mouse.
You will immerse yourself in the world of happiness and relaxation
You can make friends with others
If you are a big fan of snow rider 3d, you will have fun with Jewels Blitz 4
Controls
Utilize your mouse to play this game