Similar Games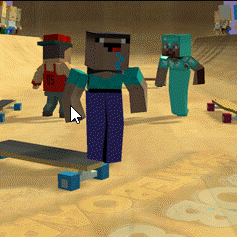 Noob & Pro Skateboarding
The fantastic sports game Noob & Pro Skateboarding challenges you to make use of your skateboards in order to go through all of the available stages.
Noob & Pro Skateboarding Instructions
On the obstacle course, the two skateboarders are going around in circles while moving ahead. They will turn in that direction when you touch the left key on your keyboard, and they will turn in the other direction when you hit the right button. The Noob vs. Pro Skateboard game is an entertaining FRIV skating game in which players assist the characters from Minecraft in completing levels by utilizing their skateboards. When you come across impediments in the PRO queue, rotate so that you may continue moving forward.
Controls
The arrow keys as well as the A and D keys can be used to control Noob, the skateboarder, and PRO. Their actions are connected to one another and dependent on one another at the same time. It is necessary to move the set such that no one trips or gets into a collision.