Similar Games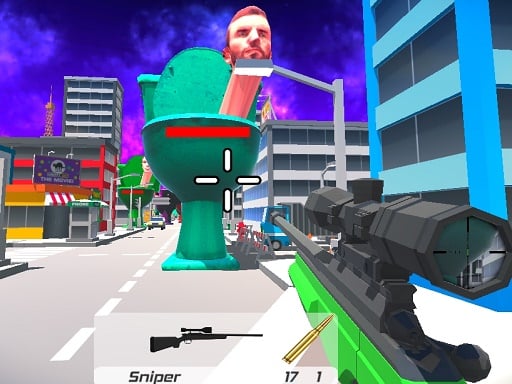 Skibidi Toilet FPS Shooting Survival
Skibidi Toilet FPS is a widely recognized video game that integrates elements of the Skibidi Toilet concept with the first-person shooter (FPS) genre. The primary goal is to engage in combat with adversaries within a battlefield that is characterized by the presence of toilets as the strategic terrain.
Instructions for Skibidi Toilet FPS Shooting Survival
Skibidi Toilet FPS Shooting Survival presents a unique amalgamation of first-person shooter gameplay and comedic elements. To achieve victory, one must adopt a mindset of embracing disorder, effectively employ shooting abilities, and employ strategic thinking to endure in this comical and nontraditional gaming experience. It is imperative to be vigilant in order to effectively navigate through unforeseen obstacles, experience moments of amusement, and test one's ability to adapt and persevere inside an environment permeated with toilets.
Main Features
There are a total of five game modes that are accessible to provide users with an immersive experience.
Each game option exhibits distinct gameplay mechanics, which are further complemented by the varied design of the stages.
Various types of weaponry
Introduce a diverse range of personalities and clothing.
Do you possess the requisite abilities to engage with more challenging action-oriented video games? One can also engage in the gameplay of Skibidi Toilet FPS Shooting Survival, an enjoyable and complimentary online first-person shooter (FPS) game, on a personal computer. Discover more with Subway FPS and FPS Assault Shooter!
Controls
WASD walk, mouse left shoot and mouse right AIM