Similar Games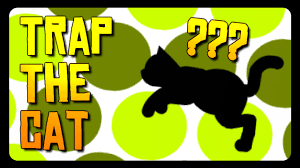 Trap The Cat
Trap The Cat is a fun game as Drift Boss and Stumble Guys in which you have to lock the cat up and trap it as soon as you can. You can't let the cat getaway.
HOW TO PLAY
A lot of new players are nervous about playing this game. If you're still not sure, you can learn how to play this game by listening to the instructions below.
Make a cage for the cat, and then put it in it. When you play "Trap the Cat" for the first time, you will fall in love with it. What happened?
You can stop the cat from running away by using the mouse on your computer. By clicking on the circles, you can block the cat's path. Cats are usually hard to catch. Start further away from the cat because if you get too close, the cat will always find a way to get around you!
After each try, the spots' colors will change to show you how close you are to the cat trap.
KEY FEATURES
Trap The Cat is a free online game that doesn't require you to download or install anything.
You can focus on the cat trap completely because it has a device that looks like a mesh. A simple, realistic game that's fun to play. You can test your friends by asking them about it.
Controls
Use your mouse to play this game!
Trap The Cat Reviews