Similar Games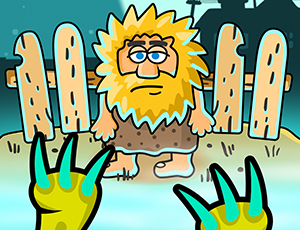 Adam and Eve: Zombies
Adam and Eve: Zombies is an awesome version of Adam's adventure in which you have to help this man escape from different zombies.
Instructions
Adam and Eve: Your worst fear is zombies. Did you ever read Pet Semetary? Everything you read about in the book "Pet Semetary" is happening. The cats' ghosts came out of the graves and walked with us. Our brave caveman went to the future to put an end to this chaos. Are you sure that he'll make it?
In each level, you'll have to help Adam escape or kill the cats by solving a series of puzzles. Quickly think about how you can use different items to help your hero escape. Click on an object to interact with it. You need to move quickly and watch out for any zombie cats that might be coming your way. If they do, the level will be over and you will have to start all over again.
Features
There are different types of zombies, including one that carries a bomb.
Time sensitive levels
Fun animations
This Halloween, zBall 4 Halloween is a fun game where you have to become an endless runner while picking up all the items along the way. Halloween Wheelie Bike is a great racing game for Halloween in which you have to steer a bike as far as you can while making it do a wheelie.