Similar Games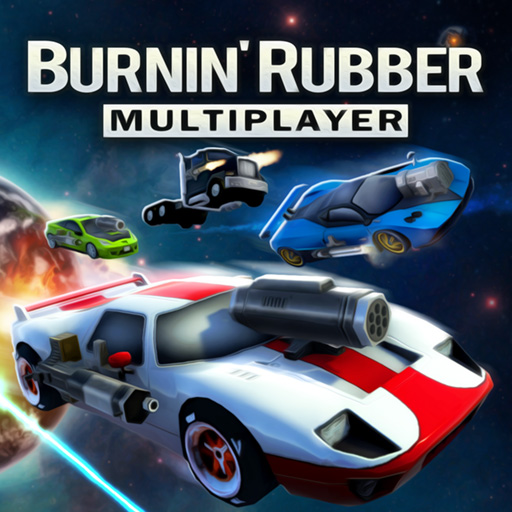 Burnin Rubber Multiplayer
Burnin' Rubber Multiplayer is a fun online multiplayer racing game in which you will need to hone your shooting abilities in order to track down and incapacitate your opponents.
How to Play
Burnin Rubber Multiplayer is a multiplayer version of the original Burnin Rubber vehicle battle game. When playing in the Multiplayer mode, you and a friend can work together to take control of the server. Other vehicles can be destroyed with a shotgun. There are a variety of other incredible vehicles and weaponry that may be unlocked.
You will have the opportunity to acquire a wide variety of incredible vehicles as well as powerful weaponry. a brand-new capability that will cause your adversaries to be taken aback and will turn heads.
Controls
Keyboard and Mouse
(W)(A)(S)(D) / (Arrowkeys) : Drive
(Space) : Nitro
(Shift) : Drift
Double-Tap (Shift): U-Turn
(Z) / (LMB) : Fire Primary
(X) / (RMB) : Fire Secondary
(F) / (MMB) : Use Special Weapon
(C) : Look Behind
(1) - (0): Dialog Hotkeys
Hold (`) : Show Dialog Wheel
(V) : HUD Toggle
(ESC) / (P) : Pause
Gamepad
(Left stick) : Steer
(Right trigger) : Accelerate
(Left trigger) : Decelerate
(A) : Nitro
(B) : Drift
Double-Tap (B) : U-Turn
(Right shoulder) : Fire Primary
(Left shoulder) : Fire Secondary
(Y) : Use Special Weapon
(Right stick down) : Look Behind
Hold (D-Pad Up) : Show Dialog Wheel
(D-Pad Down) : HUD Toggle
(Start) : Pause