Similar Games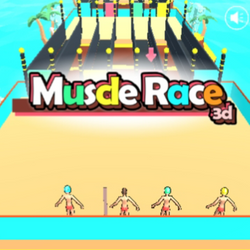 Muscle Race 3D
Muscle Race 3D is a fantastic arcade game in which the player competes against three computer-controlled opponents by accumulating weight as quickly as possible.
How to Play
The goal is to bulk up by amassing a collection of dumbbells in your preferred hue. In order to push the wall or swim up to the next platform, you need to collect all of the dumbbells in your color. If you wait too long between workouts, your rivals will pass you by. So, start exercising as quickly as you can and push.
Pick up the weights of the designated color and use them to bulk up and strengthen yourself when the time comes. The energy may also be used to propel bicycles and clear the path of obstructions.