Similar Games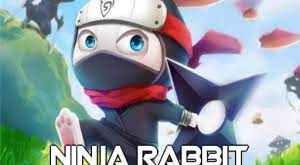 Ninja Rabbit
Have you ever wanted to become a superhero? In Ninja rabbit, you will have the chance to transfer this dream into reality. Ninja Rabbit is an online game where you are a hero taking the mission to fight against all monsters in order to protect all villagers.
INSTRUCTION
You need to move the fluffy hero around numerous levels by using a grappling hook.
You will save every creature in need and get access to the finish gates to unlock the next chapter
RULES TO SUCCESS
You use jumpers, cannons, and other devices to get rid of hard-to-reach areas.
Crashing into objects at a high speed can break them easily, using this technique to destroy all cages which hold the captured friends.
You need to approach the exit sign to accomplish the aim and level up
Make sure that you never forget to gather all the carrots and other special bells to heighten your score.
FEATURES
This game has a hilarious presentation style featuring the peaceful warrior.
There has unique physics-based traversal mechanics, various hand-crafted apps filled with labyrinths, obstacles, and bonus items
You can get access to appealing 2D visual and top-quality animation, a great sense of humor oozing from every frame, and sound effects.
Controls
You need to click to throw the Shuriken.