Similar Games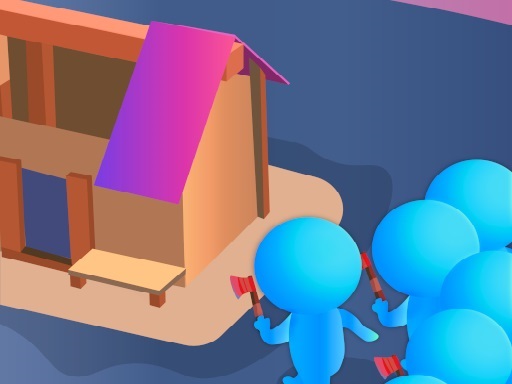 Crowd Lumberjack
Crowd Lumberjack is an awesome arcade game in which you need to collect wood to build your own house and graf your axe while exploring the world.
HOW TO PLAY
In this entertaining idle tycoon, chop down trees and gather wood to construct a home on an island. Take your axe and go on an adventure! Your crowd squad needs more lumberjacks to create spectacular structures. Cut down trees while blending in with the crowd. I am traveling the vast world. Create lovely cities and find new islands! Ready! Set! Cut and Build! develop into a powerful leader who is respected by the largest group on this island. joins the island's entire lumberjack population. Strengthen your units by upgrading them. increase crowd movement. Cities can be built more quickly if there are many woodcutters. Join Lumberjack is a 3D stickman game that can be played with one finger. It has a very straightforward control scheme and moves quickly because of the auto shop and construction mechanism. Pick up your phone, start the game, fell trees, energize your supporters, and construct spectacular structures!
KEY FEATURES
Stickman games' addictive gameplay is characterized by their realistic ragdoll 3D stick figures, smooth one-finger controls, and sharp, hyper-casual aesthetics. Upgrading your stickmen lumberjacks will help you build a team. Build the city of your dreams and receive fantastic rewards.
Various challenging levels for you to try
It is not hard to control this game so you can lead the board easily.
It is awesome to share your score and thoughts in the comment zones to make friends and show off your achievement.
Do not forget to play other interesting arcade game in our collection: Pop Balloon and Zen Cube 3D
Controls
Move by swiping the screen or by pressing WASD. Cut trees and construct.
Crowd Lumberjack Reviews