Similar Games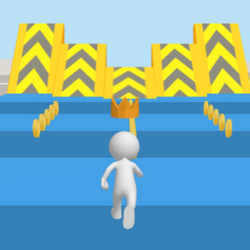 Fall Race 3D
This is a different kind of racing game called Fall Race 3D. You can compete with other stickmen in races, or you can use the Paraglider to move more quickly.
Instructions for Fall Race 3D
The Fall Race 3D video game is vibrant and packed with a tonne of both enjoyable and exciting content. In order to successfully complete each level, you will need to stay ahead of your rivals and prevent yourself from plummeting into the void. Try to amass as many coins as you can in order to gain access to new skins and other items! Your character can be controlled either by using your finger or the mouse. The moment you activate the game, the little white character will immediately begin to move forward.
Some features of Fall Race 3D
The graphics are straightforward enough that even older technology may run properly. You are able to initiate play in a game from any computer that has a connection to the internet. You have the option of using touch controls or mouse controls, depending on the device you're using similar to Fun Escape 3D and Muscle Race 3D. Because there is just a single task to complete, there is no need for a keyboard.